Understand the food consumption pattern of indian foodies
of ZEE5 viewers love to order new items on the menu
ZEE5 viewers favour international QSRs brands

Download Intelligence Monitor Report
To Leverage Consumer Preferences Towards
Indian & International QSRs
Get in-depth insight into ZEE5 consumers' habits, preferences and perceptions regarding QSRs captured in the intelligence
Moniter Report. As a marketer, leverage these insights from our study to influence your marketing decisions and reach out to your audience better.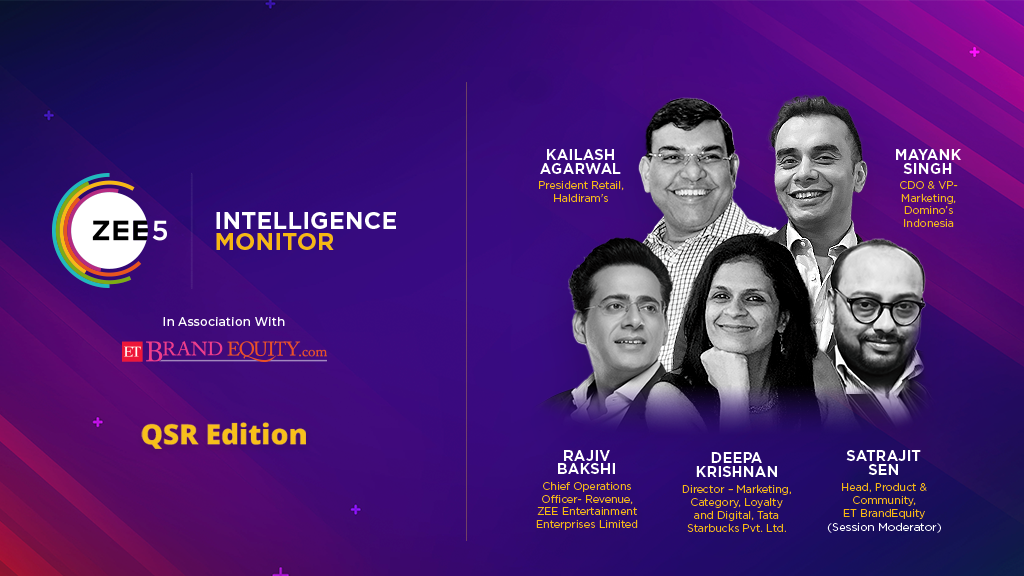 QSRs have become a big part of the F&B industry in india
India as a diverse country has many cultures with variations and preferences, specially in food. Despite the differences in food, a common thread that connects it  all is the concept of eating out or ordering food online. Majority of indians made a cultural shift on the arrival of international QSRs.
ZEE5 Intelligence Monitor | Quick Service Restaurant Consumer Insights & Trends Report in association with ET Brand Equity
  Join Rajiv Bakshi (COO - Revenue at ZEE Entertainment Enterprises Limited) with Kailash Agarwal (president Retail at Haldiram's), Deepa Krishnan (Director - Marketing, Category, Loyalty and Digital, Tata Starbucks Pvt. Ltd.), Satrajit sen (Head, product & Community, ET Brand Equity), and Mayank Singh (CDO & VP-Marketing Domino's Indonesia) to understand the basics and findings of the report and their implications on the current insights and trends led by the consumers.